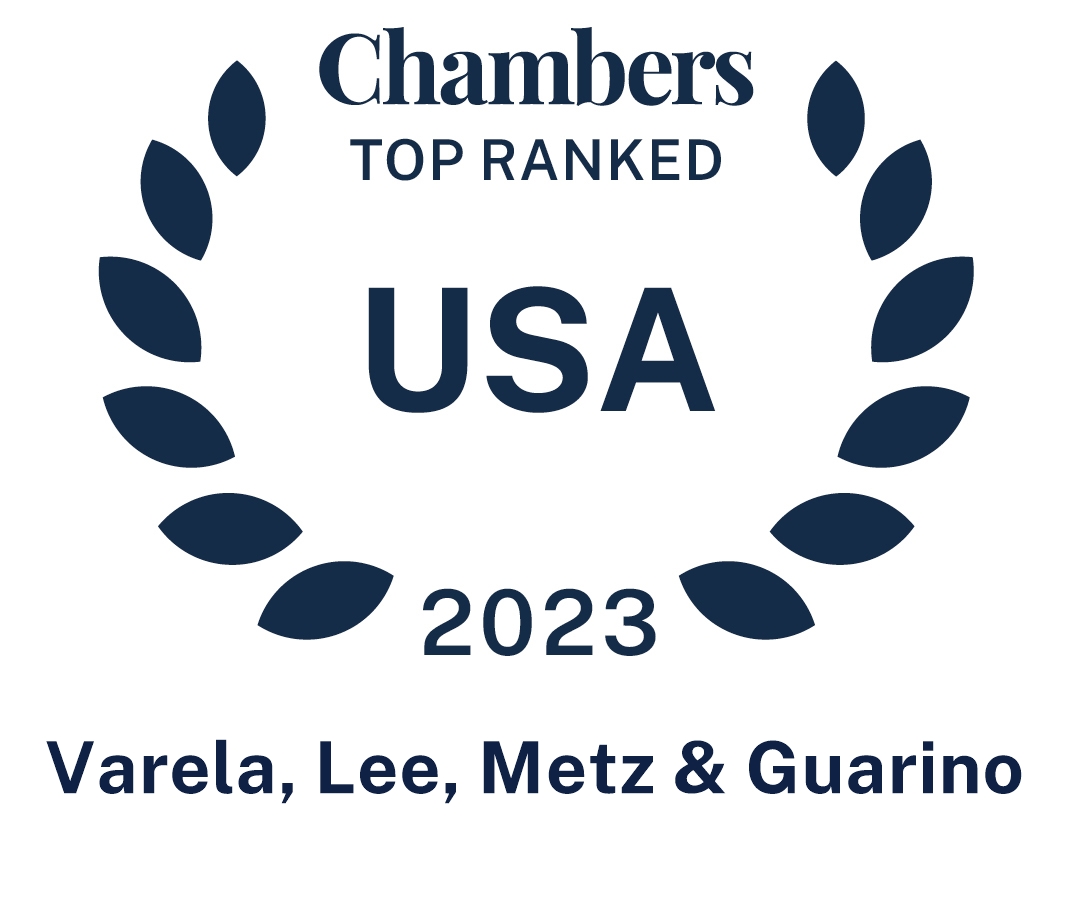 Varela, Lee, Metz & Guarino once again has been recognized in the Chambers USA guide in the "Construction" category. 
For 2023, VLMG is again top ranked in Construction in Virginia, California and Nationwide.
To identify and rank the world's best lawyers and law firms, Chambers and Partners, a UK-based research and publishing group, employs a team of more than 200 full-time researchers to conduct an in-depth assessment of recent work and extensive interviews.
Chambers and Partners also recognized Paul Varela, Bennett Lee, Todd Metz, Joseph Guarino, Brian Dugdale, Christopher Burke, and David Wonderlick for their individual achievements.  
As described by Chambers:
USA NATIONWIDE
What the team is known for Well-respected boutique comprised of construction law specialists on both coasts. Handles sensitive and substantial cases for many of the country's top industry players. Specializes in industrial and power sector projects with engineering, procurement and construction contractors and developers. Increasingly active in international construction projects and arbitrations, and has significant experience in government contract disputes. Particularly skilled in cross-border and multijurisdictional matters.
Strengths Clients say: "Varela Lee is a talented group with an ability to make complex issues easy to understand." "The firm is extremely hard-working."
Work highlights Varela, Lee, Metz & Guarino represented Aldridge-Rosendin Joint Venture in state court litigation concerning the design and construction of a billion-dollar extension to the Bay Area Rapid Transit subway system into San Jose, California.
Notable practitioners
Paul Varela is a key contact in Virginia.
VIRGINIA
What the team is known for Boutique construction firm with an impressive international client base. Boasts a deep bench of highly experienced construction law specialists handling a wide variety of contentious and noncontentious mandates. Regularly advises clients on high-value dispute resolution proceedings domestically and internationally. Noted for its expertise in the power and industrial sectors and also involved in the construction of a number of high-end rail, highway and airport developments.
Work highlights Varela, Lee, Metz & Guarino represented Suffolk Construction in a dispute with several affiliated entities of Children's National Hospital stemming from the construction of a medical research campus in Washington, DC for which Suffolk Construction served as prime contractor.
Notable practitioners
Construction - Virginia - Band 1
Ranked in Band 1, Paul Varela maintains an excellent reputation as a leading construction practitioner with broad experience in both contentious and noncontentious matters relating to large commercial development and infrastructure projects. 
Ranked in Band 1, Todd Metz focuses his practice on disputes, with experience in arbitration proceedings as well as litigation relating to major domestic and international construction projects. "Todd Metz is top-notch."
Ranked in Band 2, Joseph Guarino primarily handles dispute resolution in the construction sector, including major claims relating to the development of energy facilities, hotel complexes and commercial buildings. "Joe is an excellent counselor. He handles case strategy well and is also engaged with the details."
Ranked in Band 2, Christopher Burke is noted for his expertise in complex construction disputes, advising on litigation as well as arbitration proceedings. He has particular experience in matters relating to the construction of power plants and public infrastructure. "Chris is incredibly smart and a strategic thinker." "Chris learns the facts and documents quickly. He is a bulldog as a litigator."
Ranked in Band 4, Brian Dugdale advises on a wide array of construction matters, including contract negotiation, joint venture formation and dispute resolution.
Ranked as 'Up and Coming.' David Wonderlick is an expert construction practitioner who concentrates his practice on the representation of clients in construction and engineering disputes.
CALIFORNIA
What the team is known for Experienced team with a large presence in Northern California. Handles the full gamut of construction law matters, from contract drafting to project management and dispute resolution. Particular focus on public work projects, often acting for state, federal and local governments. Also acts for major energy, transportation and engineering corporations.
Strengths Impressed clients say: "They are an exceptional team with a strong bench." "They are very sophisticated and dedicated attorneys and they provide very strong client service."
Work highlights Varela, Lee acted for Aldridge-Rosendin Joint Venture in a $110 million dispute relating to the extension to the Bay Area Rapid Transit subway system, in defense of claims for delays, cost overruns and contract performance issues.
Notable practitioners
Ranked in Band 1, Bennett Lee advises his clients on the full gamut of matters relating to construction contracts, and is also regularly called upon to act as an arbitrator in complex construction disputes. "He is one of the major players doing the biggest and most complex work in the State." "He is a very smart lawyer; appropriately aggressive as an advocate and not afraid to push for his client."