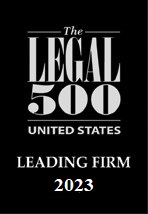 Varela, Lee, Metz & Guarino has been recommended again this year by the Legal 500 United States as a top firm in the Construction practice area for 2023. Additionally, the guide highlighted Brian Dugdale once again as a Next Generation Partner for 2023.
This year's Legal 500 guide shares 'Often representing significant blue-chip construction clients, Varela, Lee, Metz & Guarino, LLP is involved in both regional and global construction disputes. The team is seasoned in federal government contracting such as bid protests, claim preparation, compliance and pricing, and the team's attorneys have also enjoyed success before the U.S. Court of Appeals for the Federal Circuit, and the Civilian Board of Contract Appeals. Paul Varela is experienced in AAA, ICC, ICCDR, and LCIA arbitration, and has served as counsel in matters of administration and contract planning. Todd Metz advises clients on preparation and dispute resolution claims surrounding construction projects and government contracts. Bennett Lee works from San Francisco and represents his client roster of construction managers and owners, design engineering firms and general contractors on a breadth of mandates concerning mass transit systems and power/hydro plants. Joseph Guarino and Brian Dugdale are also noted.'
The Legal 500 Series is widely acknowledged as the world's largest legal referral guide. More than 250,000 corporate counsel have been surveyed and interviewed globally in the past 12 months. The Legal 500 is an independent guide, and firms and individuals are recommended purely on merit. The Legal 500 Series' analysis of law firm capabilities extends to 107 jurisdictions worldwide. The website www.legal500.com has 4 million unique individual users each year, including 2.5 million corporate counsel. Used by commercial and private clients, corporate counsel, CEOs, CFOs and professional advisers - as well as by other referrers of work both nationally and internationally - the series is widely chosen for its definitive judgement of law firm capabilities.